Russian Avantgarde books
Klutsis) N/A.

SOVETSKY TEATR ("The Soviet Theater"). Magazine. 1932 No. 1
Moscow: ZhurGaz, 1932.
Text in Russian. Large 4to (292 x 215 cm) Stapled wraps. Illustrated. [Cover design by Klutsis].
[Klutsis, Gustav (1895-1938): Well-known Soviet artist. Graphic artist, street and book designer, posters, agitprop. Studied in VKhUTEMAS, the famous school of Russian avant-garde. Circle of Malevich and Lissitzky. Invented color photomontage. Participated in many exhibitions, domestic and abroad: in 1922 (Berlin) with Archipenko, Chagall, Filonov, Gabo, Kandinsky, Lissitzky, Malevich, Popova, Puni (Pougny), Rodchenko, Rozanova, Tatlin, etc. ]
First issue. very scarce.
RYKAYUSHCHII PARNAS. FUTURISTY [ROARING PARNASSUS: FUTURISTS]. ST PETERSBURG: ZHURAVL', 1914

Varius authors : SEVERYANIN, IGOR, DAVID BURLIUK, VELIMIR KHLEBNIKOV, VLADIMIR MAYAKOVSKY, ALEKSEI KRUCHENYKH, BENEDIKT LIVSHITS, VLADIMIR MAYAKOVSKY, ELANA GURO, NIKOLAI BURLIUK.4to (225 x 170mm.), [limited to 1000 copies], some pages printed on cream, some on blue paper and some on heavy brown paper, 20 illustrations: 5 by David Burliuk, 8 by Vladimir Burliuk, 2 by Pavel Filonov, 3 by Ivan Puni and 2 by Olga Rozanova, original pictorial wrappers by Puni.
This collection of miscellaneous pieces was produced by members of Hylaea and the Union of Youth in order to coincide with the Italian futurist Marinetti's visit to Russia. Severyanin, the founder of Egofuturism, was a new addition to the group, and it is likely that the aggressive manifesto with which this volume opens, "Idite k chortu [Go to hell]", in which they grouped Symbolists, Ego-Futurists and Acmeists together, is due to his influence.
LITERATURE AND REFERENCES: Hellyer 460; Ex-Libris 82; The Russian Avant-Garde Book 92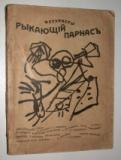 Trinadtsat' trubok (Thirteen Pipes) by Il'ia Erenburg. Moskow-berlyn: Gelikon, 1923. 257 pages, 18.8 x 12.3 cm. cover with letterpress lettering on front by Kozinteva, Liubov'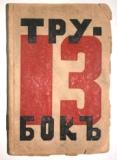 ERENBURG, Ilya Grigorevich [Ilia Ehrenburg] (1891-1967) and Fernand LÉGER (1881-1956) (illustrator).

A vse-taki ona vertitsya [And All the Same the World Goes Round]. Moscow and Berlin: "Gelikon," 1922. 142 pp. 8vo (220 x 160 mm). [Izdanie studii D. Burliuka i Sam. Vermel'. 500 тираж] 500 copies.

Illustrated with photogravures and line illustrations by F. Léger and others. Original decorated wrappers designed by F. Léger.

rare treatise on contemporary avant-garde art. Among the artists the Russian critic considers are Léger, Lipchitz, Lissitzky, Picasso, Rodchencko, Van Doesburg and even Charlie Chaplin with Cubist drawings by Léger. The book is also noteworthy for its typographical experientation. MoMA 401.




Exter) Tairov, A.
ZAPISKI REZHISSERA ("Notes of a Director [Producer]"). First Edition.
Moscow: Kamerny Theater, 1921.
Text in Russian. Softcover. 191 pp. Avant-garde cover design, illustrations and letters by A. Exter. (A Catalogue of Russian Avant-Garde Books in the British Library 1912-1934, No. 498). [Tairov, Aleksandr (1885-1950): the famous Russian and Soviet theater producer. Founder and director of the Kamerny Theater. (Chamber Theater, Moscow). In this theater worked such prominent Russian artists as Vesnin, Goncharova, Larionov, Stenberg Brothers. - Exter, Alexandra (1882-1949): Lived in Kiev, Moscow and Paris. - An illustration from this book was reproduced in S. Compton's book on Russian Avant-garde. - Rare]

For more details and prices plese contact Mr. Uzi Agassi: uagassi1@netvision.net.il